Welcome to Pantanal Pathfinder, the best Pantanal Travel Agency for Jaguar Safaris and Wildlife Photography Tours
Pantanal Travel Agency – Stretching across the Brazilian states of Mato Grosso and Mato Grosso do Sul (also spilling into Bolivia and Paraguay) the Pantanal is the world's largest inland wetland area. While the Amazon gets more credit, the Pantanal's open spaces offer the best opportunities for spotting animals in their natural habitats in Brazil. Pantanal Pathfinder has the lowdown on everything you need to know about the country's top wildlife destination.
Jaguar wildlife photography in Central Brazil
Jaguar wildlife photography in Central Brazil
YOUR PANTANAL ADVENTURE STARTS HERE
Join us on one of our Private safari or small group Jaguar Tours.
Join us on one of our Private safari or small group Jaguar Tours.

BEST trip ever to the Pantanal !!!! I spent 8 days in the Pantanal with Douglas Rocha early Nov 2019 and I had THE most amazing time. I had been to the Pantanal twice before but had only had a fleeting sighting of a jaguar in 2006 and a single good sighting in 2016, when I went with other tour companies. On this trip, however, I saw 10 jaguars in 3 days (6 boat trips), 4 tapirs, 1 ocelot, 1 giant ant eater and countless giant river otters (as far the 'usual suspects' go).  I felt like I'd won the lottery !!!    I know that Douglas would be the first one to tell me that there is no guarantee with wildlife and not raise expectations.... and he'd be right, of course, but I also believe that his intimate knowledge the cats, knowing where they tend to hang out and what routes they usually like to take, to swim from one shore to the next, proved invaluable in ensuring that we were always in the right place, at the right time, to take some smashing photos.  I also very much admired his work ethics as Douglas is equally passionate about wildlife as I am and has the utmost respect for all the animals we came across, i.e. ensuring there was a minimum distance between us and them so they wouldn't feel harassed.  This was really important for me too... The hotel he'd secured was in a prime location too and, late Oct/early Nov it was blissfully deserted, even though the weather was still very good. Great facilities and good food too, with our rooms overlooking the river, capybaras on the grounds and many resident hyacinth macaws. Everything I'd dreamt of :) The vehicles he chose were really comfortable too ; quite sturdy & steady (which is invaluable when you shoot with a long lens, either from a boat or a 4x4 open truck) I'll let the photos speak for themselves....  Thanks again Douglas, I am still *beaming* about the whole experience. Such beauty is addictive and I am SO looking forward to returning next year... and the next.  

Wonderful tour! We can't recommend Douglas Rocha highly enough. If you want a tour of the Pantanal, he's your man! He's totally professional, very knowledgable, and good company. He arranged almost everything for us, from picking us up at Cuiaba airport, transport to the Pantanal by minibus and safari truck, the hotels etc. We had the most wonderful time in Porto Jofre, on the river for early morning and afternoon safaris and had the most amazing jaguar sightings - ten in fact over three days. Douglas knows some of the big cats and their habits, so knew where to spot them, and where they'd be likely to move. So we got some great photos. We saw lots of other wildlife in the Pantanal, including a giant otter family, tapir, deer, an ocelot, and many species of bird, all identified by Douglas. He really knows his stuff!

Top découverte du Pantanal 9 jours de découverte et d''émerveillement pour ce safari au Pantanal. Nous avons pu admirer 10 jaguars, 3 tapirs, un fourmilier géant, des loutres, des dizaines d'oiseaux ,perroquets, toucans, aigles, rapaces, martins pêcheurs, héron, aigrettes et d'autres fort rares dont j'ai oublié le nom, ocelots, capybaras, biches, cochons sauvages, caimans, singes hurleurs, capucins...dans un décor de paradis. Nous avons débuté le séjour en empruntant la Transpantaneira sur 145 km, magnifique journée, l'occasion de nombreux arrêts pour admirer la faune sauvage. Les jours suivants en bateaux dans le water-state-park ont été extraordinaires, nous avons vu 10 jaguars, incroyable de se retrouver en face de ses animaux magnifiques, les loutres géantes nous ont beaucoup amusées, nous avons pu observer plusieurs familles. Et la suite, balades dans le bush, tours d'observations, lever du soleil, safari de nuit... L'organisation était au top, tout était fait pour nous permettre une vraie découverte, Doug est un très bon guide, qui parle très bien anglais, enthousiaste, heureux de partager sa grande connaissance de la vie sauvage du Pantanal. Disponible, patient et attentif à notre sécurité. et à celle des animaux que nous étions venus voir. Très bons conducteur et pilotes, sympathiques et attentionnés, pour le pick-up et les bateaux, matériel en très bon état et confortable. Lodges simples et confortables , situés dans des endroits magnifiques, bonne literie, climatiseurs, salle de bains privative, repas copieux et variés, légumes, fruits... je vous recommande les ananas, tellement doux, Difficile d'exprimer tout le bonheur de ce voyage, alors merci Doug, je conseille sans hésitation Pantanal Pathfinder pour tout ceux qui veulent vivre une fantastique aventure dans la nature.

The best experience of South American wildlife We wanted to see the best of South American wildlife and we were not disappointed. Having visited the Pantanal a few years ago for just a few days, we returned with the same guide, Douglas Rocha, who now runs Pantanal Pathfinder and went on an epic 12-day trip which included 9 days on the Aguape 'houseboat' travelling down the Paraguay river from Caraces with a total of 16 guests, and finishing with four unforgettable days in the Porto Joffre region where we saw 10 jaguars. We finished the tour with 3 days in Pantanal lodges, allowing us to increase the number of mammal sightings to over 20, including giant anteater, ocelot, tapir, jaguar, giant otter, tufted capuchin, black howler, marmoset and thr rare 'zog-zog' monkey (also referred to as Prince Bernhard's titi). The bird life was spectacular and we saw four species of macaw, including hyacinth, as well as some very rare encounters like the black-barred owl. Douglas as tour leader and our guide Marcos Ardevino, were amazingly patient and knowledgeable as well as great company and expert wildlife spotters. They both have degrees in their chosen field so are extremely knowledgeable. All practices were sustainable and followed eco-tourism guidelines and the animals we saw were not disturbed by our presence. I took my partner and parents (who are in their eighties) so it really was appropriate for all adult ages. We also got Douglas to arrange a 1-week extension to our tour in the Amazon, which was also fantastic. We would recommend Pantanal Pathfinders, Douglas and Marcos to you unreservedly as excellent tour organisers and guides and very honest, decent and caring people. If you want to see South-American wildlife, organise a trip to the Pantanal with them!!!
Top agenca for long Pantanal Trips Already for a long time we have been searching for an extensive journey into the Brazilian Pantanal. With "Panatanal Pathfinder" we've finally found the right partner. In Cuiaba we were picked up at the airport by Douglas Rocha, owner of the company and our naturalist guide, and transferred to the hotel "Grand Odara". The next morning, we were transferred to Caceres and embarked the houseboat "Aguape". By houseboat we cruised 10 days across the northern Pantanal. The houseboat has 3 decks. On deck 1 and 2 are 13 cabins for altogether 36 persons (we were 16 international guests + 7 crew members + 2 guides). On deck 2 is also a bar offering alcoholic and non-alcoholic drinks for reasonable prices as well as the restaurant which also has a huge TV where you can watch photos and videos of the day in the evenings. Deck 3 is the sun deck to relax and to have an overview on the wonderful landscape passing by. All day long water, coffee, tea, snacks and fruits is provided complimentary. All the crew members are very friendly and helpful. As a rule, one undertakes a morning and an afternoon safari per day using smaller speedboats (max. 8 persons + guide + boat driver). These boats are comfortable because of having seats with backrest and enough space to stow things such as camera equipment away. The first 4 days we explored the Paraguay River and its bays and the Taiamã Ecological Reserve. We enjoyed all kind of interesting wildlife, including Capybaras, Caimans, Anaconda, Howler Monkeys, and many bird species. In the Amolar Hills we went on land for a forest walk in search of monkeys, birds and also visiting a natural swimming pool, where it is possible to swim. We had the chance to spot the endemic Chaco Titi Monkeys which made a lot of noise. Afterwards we headed via the Cuiba River to the Meeting-of-the-Waters State Park. The houseboat Aguapé was anchored at the entrance of the Meeting-of-the-Waters State Park. Here our dream became true. In our first safari we saw our first Jaguar. It was impressive, even if it was only very short. During 8 safaris we had 6 sightings of 4 different Jaguars, two of them for a long time. We could also observe the unsuccessful hunt for Capybaras. We were particularly impressed by the Giant Otters. Often we could observe families for a long time in their daily routine. After 10 days on the houseboat we travelled along the Transpantaneira from Porto Jofre to Pouso Alegre Lodge where we spent 2 nights. On different walks and (night)safaris we again had amazing encounters with Marsh Deer, South American Coati, Tapir, Armadillo, Peccaries, Foxes, Nandu, Capuchin Monkeys and many birds. Even the shy Hyacinth Macaw we got in front of the lens having lots of patience. Our guide Douglas contributed significantly to the success of our trip. As a biologist he is very knowledgeable regarding the fauna and flora of the Pantanal and is always enthusiastic. Moreover he is very good at organizing and his English is excellent. This tour we highly recommend to all nature lovers.
The vessel, intended for the carriage of passengers, authorized for inland waterway navigation in Pantanal Jaguar Safaris – area 2, has the capacity of 100 (one hundred) passengers for no overnight excursions and 36 (thirty-six) passengers for overnight trips (more 20 places for the crew).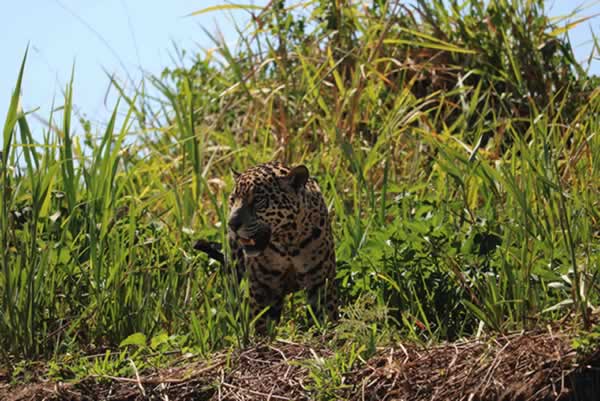 pantanal travel agency – jaguar tour
Along the Brazil Pantanal, we always have a chance to spot wildlife like Marsh Deer, Coatis, Giant Anteater, the Yellow Anaconda, the Marvelous Jaguar (or leopard), Giant Otters, Monkeys, Capybaras, Porcupine, Storks, Herons, Kingfishers and much more. Also, a full day dedicated to Boat Safari. A complete eco explorer on Pantanal Jaguar Safaris, a truly exceptional experience.
(We do not share your data with anybody, and only use it for its intended purpose)